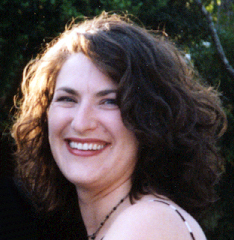 "The only thing wrong with being sensitive is trying to pretend that you are not."

~ Jenna Avery
Jenna Avery is a "Life Coach for Sensitive Souls." Once upon a time, when her life was not going well, she took her high sensitivity in hand and went on a journey of discovery. What she learned along the way to her current successful life has become her Embrace Your Essential Self Home Study Program for highly sensitive people (HSPs). The program progresses through three phases, and a new Phase I is beginning quite soon, on September 19th.
On the web page for Avery's Home Study Program she shares the story of her journey. I've been receiving her e-zine, The Art of Sensitive Living, and had thought of interviewing her, wanting to add her wisdom to Highly Sensitive Power's collection of interviews with people I consider HSP role models, but now I don't need to: her powerful story is already there to read.
Whether you decide to participate in Jenna Avery's Home Study Program for HSPs or not, I hope you'll check out her website and visit her program's web page to read her inspiring and empowering story.