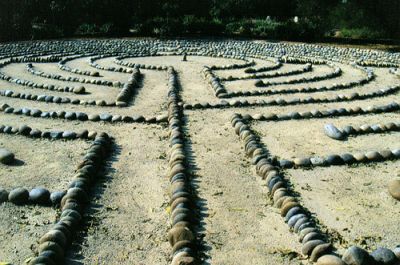 Once upon a time, there was a brash young woman who thought she had answers, the answers, enlightening answers. She considered it her responsibility to share her brilliant revelations with the people closest to her, even though she knew they would be deeply hurt.
"The truth is the truth," she told herself. "They need to face up to it." She squared her shoulders. "We'll all be better off when we share the same truth."
Sure enough, people were hurt. Some only a little, some a little more, and some were mortally wounded. (Or so it seemed.) The brash young woman watched it all and stood firm. She knew what she was doing. People were hurt by the truth only when they'd been living a lie, right?
She turned her back on the mortally-(or so it seemed)-wounded, those who insisted on embracing the old lies. She shoved them back, further and further, until they were tiny specks in the distance, nothing much, those people.
But she hadn't factored time into her brilliant campaign of truth.
Time crept forward like a grey shadow, so stealthily and with such insinuating skill that she didn't notice for a long time that her beautiful answers showed signs of wear around the edges. They'd begun to decay.
At first, once she saw what was happening, she panicked. She ran around and around protesting and yelling and trying to make everyone understand and do what she said and remember the original brilliant truth. But eventually even she noticed that she was running in circles. In the same tighter and tighter circle, in fact. And when the circle became tight enough, she saw that she was at its centre.
Not she and the truth at the centre of it all. But just she. Alone. With the actually-not-mortally-wounded people looking at her. After a few eons of standing alone in the centre of her circle, she lifted her eyes. But she saw only concern in the eyes of the actually-not-mortally-wounded. Then a hand reached out to her.
By the time the formerly brash, formerly young woman got up the nerve to pick up the truth and hold it, it was small. Tiny. Almost nothing. And she didn't see any way to forgive herself for the damage she'd done, even though everyone around her, all the people she'd aimed her truth at so deftly and certainly and sharply and (she sighed) wrongly, forgave her.
In the end, she was saved by a falsehood. The becoming-wiser, rather-older woman pretended she forgave herself. She lied to herself. She walked around saying "I forgive myself – I forgive myself – I forgive myself" a thousand times a day, day after day. She faked it for so long she came to believe it as truth.
The irony was not lost on her.
Flickr photo: labyrinth–avila beach, by Moon Rhythm.
Related reading: Book | How to Live With an Idiot, Herbal Pharmacy